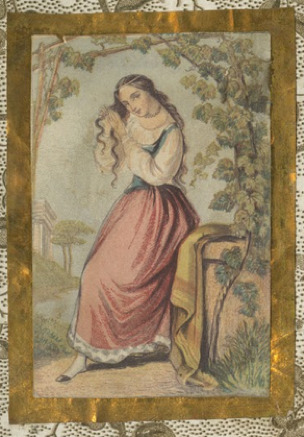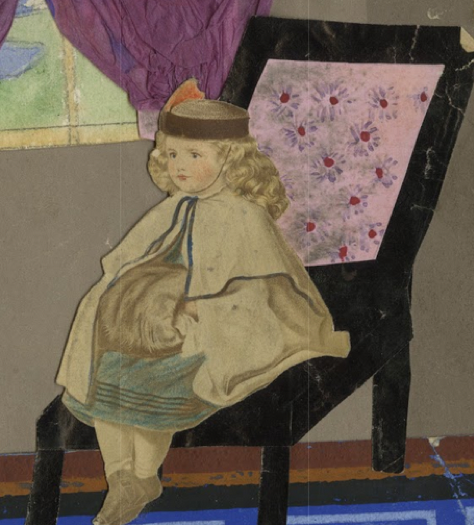 The scrapbook presented here was created by an unknown member or members of the Loring-Dresel family of Beverly, Massachusetts. Since the scrapbook has the dates 1876-1877 inscribed inside, it is believed that this is when the scrapbook was created. This style of scrapbook, which was likely known as a "paper dollhouse" or "scrapbook house," was common from about 1875 to 1920. This makes the example here an early sample of this genre of scrapbook.
The creation of paper dollhouses was not only an activity for children, but also sometimes for adults. These projects could be done by a single child or groups of children, or by a child and adult working together. When viewing the pages, the skill required to build a paper dollhouse is evident. The houses often start at the front door, and then enter into the more public areas of houses like the kitchen or a parlor, and then venture into more private portions of the house as the pages turn. The example presented here is laid out in this typical style. Paper dolls, both male and female, are often present and sometimes named as a few here are. Even though male paper dolls are used in this and other paper dollhouses, the spaces depicted were more often feminine rather than masculine areas of the house; for example a smoking room would not usually be included in the book.
The pages of these scrapbooks reflected the times and how women viewed their role in Victorian era society. These scrapbooks most often depicted women in the domestic realm, and constructing one of these books allowed women to express themselves in real or imagined ways. Signs of fashion, home decorating, and family structure are evident; the artistic and creative skills of the creator are also demonstrated. The imagery and figures were taken from a variety of sources such as ladies' magazines, greeting cards, wallpaper samples, and other decorative paper samples that became more widely available after the 1860s. In researching this genre of scrapbook, it seems like not many of this type have survived, at least not many that are available in digital form and easily discoverable.
Scrapbook Preview
Beverly Gordon. (2006). "Scrapbook Houses for Paper Dolls: Creative Expression, Aesthetic Elaboration, and Bonding in the Female World." In The Scrapbook in American Life, edited by Susan Tucker, Katherine Ott, and Patricia P. Buckler, pp. 116-134. Philadelphia: Temple University Press.
Lynda Roscoe Hartigan. (1993, Summer). "The House That Collage Built." American Art, Vol. 7, No. 3, pp. 88-91.